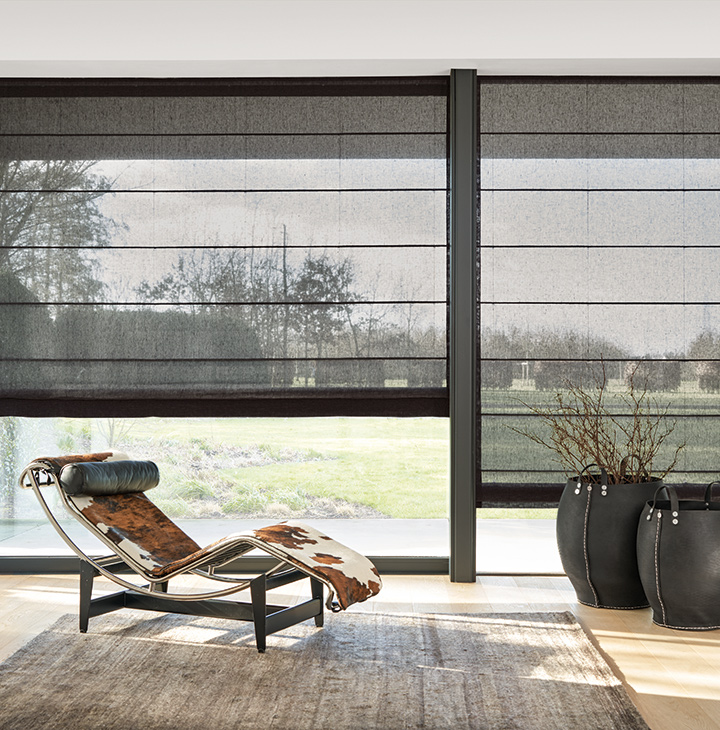 Roman blinds
Contrejour offers a tailor-made curtain and voile tailoring service, as well as tailor-made roman blinds (american blinds), with a selection of our best fabrics references from the Texdecor group:
› Cord mechanism roman blind
› Chain mechanism roman blind

We can also create tailor-made blackout roman blinds thanks to our linings offer.
Why choose a Roman blind ?
The Roman blind or American blind is a blind which folds into itself horizontally.

It is ideal for decoration because a large range of fabrics can be used and it can be combined with curtains.

The high-quality mechanism enhances the exclusive fabrics and brings both comfort and design to your room.

A wide choice of designs ensures that you will be able to find the perfect model to harmoniously dress your interior.
Roman blind
Cord mechanism

With their mechanism small size volume, these corded roman blinds can be attached to the window opening.

Roman blinds are ideal for softening both a vis-à-vis as well as the brightness.

The Roman Corded roman blind is designed for awnings with a maximum width of 3.2m.

3 Roman shade finishes to choose from:
- rods / front rods,
- rushes / rear rods,
- tubular rods / applied rods / flat pleats.

It is possible to double the blind to obtain a blackout roman blind.

Roman blind
Chain mechanism

Like the cord roman blind, the chain model offers a small Mechanism volume size.

The roman blind is very quiet and easy to handle.

The chain Roman shade is designed for awnings up to 3.5 m wide and up to 3.5 m high

It is possible to double the blind to obtain a blackout roman blind.