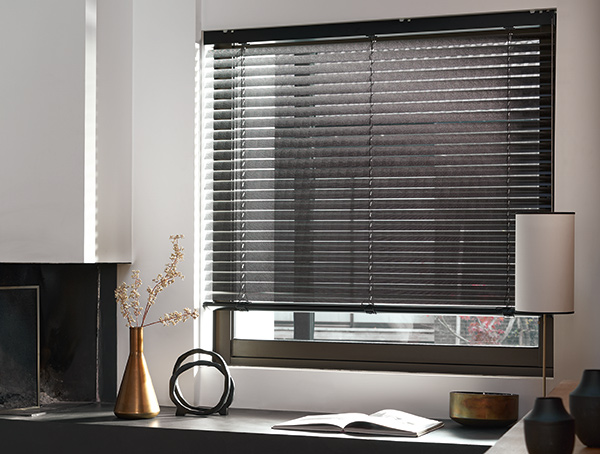 Aluminium Venetian blind
The Venetian blind or horizontal blind is a blind with horizontal slats allowing you to vary the light.
Why choose a Venetian blind?
To decorate your interior
The wooden Venetian blind or aluminium Venetian blind will suit any interior bringing warmth and privacy.

Windows with unusual shapes or under eaves
These interior blinds are totally customisable and tailor-made to meet your requirements.

Vary the light
Venetian blinds allow you to partially or completely block the light entering the room with their moveable slats.

› Aluminium : the Basalt classique & design aluminium Venetian blinds
›Solid wood: the Carolina & Amazone wooden Venetian blinds
›Economical : the Amazone wood-finish Venetian blinds
›Bathrooms, utility rooms and kitchens: bamboo Venetian blinds
How to choose your Wooden Venetian blind ?
› For residential use : textured, plain or varnished solid-wood slats
› For projects : M1 treatable slats
Aluminium Venetian blind

Basalt classic

The Classic aluminium Venetian blind is composed for 0.21mm wide aluminium slats.

Your Venetian blind can be customised without limitation thanks to :
- The 3 widths of slats available : 16 mm – 25 mm - 50 mm.
- Its range of 90 colours.
- Its operation by cord, single-control chain or winch-handle.
- Its dimensions which can go up 3.3M in width and 3M in height

OPTIONS :
- Single control chain
- Motorisation
- Blind for interglazing (25mm slats)
- Steel guidance system
- Mixable colours

With an inexhaustable choice of colours, the Classic aluminium Venetian blind can be adapted to fulfill everyone wishes !

Aluminium Venetian blind

Basalt design

The Design aluminium Venetian blind is composed of 0.21mm wide aluminium slats, a superior extruded aluminium housing and an extra-flat, closed aluminium charge bar, which coordinates with the slats, the quality is carried through even to the smallest details.

Your made-to-measure Venetian blind can be customised without limitation thanks to :
- The 5 widths of slats available: 16 mm – 25 mm – 35 mm – 50 mm & 70mm.
- Its range of 140 colours.
- Its operation by cord, single-control chain.
- Its dimensions which can go up to 3.2M in width and 3.2M in height (16, 25 or 35mm slats) and a width of 4M and a height of 3.2M (50 and 70mm slats)

OPTIONS :
- Single control chain
- Motorisation
- Steel guidance system
- Mixable colours
- Cloth tape (only for 16, 25 and 35mm slats))

Completely coordinated mechanism and slats
It can be motorised and adapted to your windows