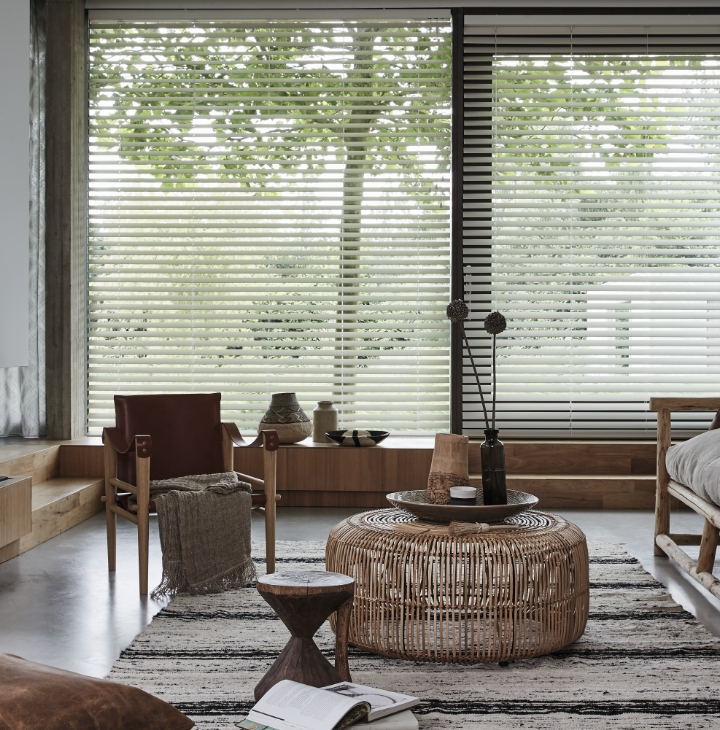 Wooden Venetian blind
The Venetian blind or horizontal blind is a blind with horizontal slats allowing you to vary the light
Why choose a wooden Venetian blind?
To decorate your interior
the wooden Venetian blind or aluminium Venetian blind will suit any interior bringing warmth and privacy.

Windows with unusual shapes or under eaves
these interior blinds are totally customisable and tailor-made to meet your requirements.

Vary the light
Venetian blinds allow you to partially or completely block the light entering the room with their moveable slats.
How to choose your Wooden Venetian blind ?
› Solid wood: the Carolina & Amazone wooden Venetian blinds
› Economical : the Amazone wood-finish Venetian blinds
› Bathrooms, utility rooms and kitchens: bamboo Venetian blinds
› For residential use : textured, plain or varnished solid-wood slats
› For projects : M1 treatable slats
Wooden Venetian blind
Taïga

Composed of 3mm wide Basswood wooden slats , this wooden Venetian blind gives numerous possibilities for customisation and brings warmth to your interior.

DESCRIPTION :
- 60 colours of slats
- 3 widths of slats: 25 mm– 50 mm – 65 mm
- Operation : cotton cord
- Smooth wooden valance

OPTIONS :
- Motorisation
- Steel guidance system
- Cloth tape (only for 50 and 65mm slats)

This model can be FR treated
Positionable slats to block the light and also optimise privacy.

Wooden Venetian blind
Bambou

The Bambou wooden Venetian blind is ideal for rooms with high humidity (bathrooms, kitchens…)

- 11 colours of slats
- 2 widths of slats: 35 mm or 50 mm
- Smooth bamboo valenceu
- Narrow ladder or cloth tape
- Cord operated


OPTIONS :
- Motorisation
- Steel guidance system
-Cloth tape

Our bamboo Venetian blinds are more respectful to the environment because bamboo has a very rapid growth rate !

Wooden Venetian blind
Carolina design

Composed of 3mm wide Abachi wood slats, this wooden Venetian blind gives numerous possibilities for customisation and brings warmth to your interior.

- 36 colours of slats
- 5 widths of slats: 25 mm – 35 mm– 50 mm– 70 mm & 90 mm
- Operation : cord


OPTIONS :
- Motorisation
- Steel guidance system
- Cloth tape
- Pulley

This model can be FR treated.
Good privacy