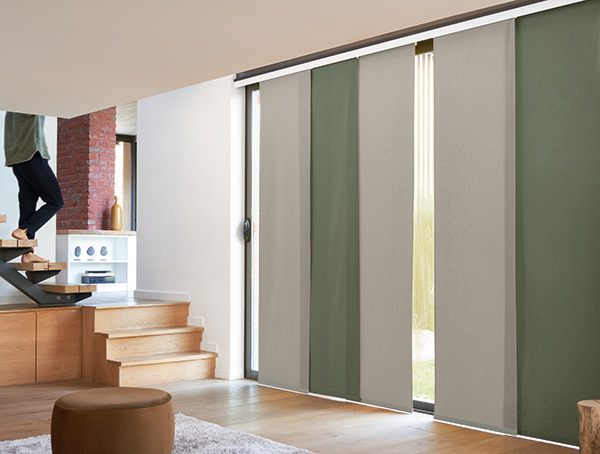 Japanese panel
Also known as : Japanese panels, Japanese screen or sliding panels.
Japanese screens are appreciated by decorators. When used together with Japanese curtains, you can let your imagination run wild. They can dress a large picture window creating a softer light in the room.
You can also use Japanese blinds to divide your rooms or conceal a dressing room.
Why choose a Japanese panel?
To decorate your interior

The elegance of combined panels

Large picture windows

To separate a room and create private spaces
how to choose a Japanese panel?
› A discrete finish: Japanese panel with a "classique" rail
› A contemporary finish : Japanese panels with an "absolu" rail
Japanese panel

Classique Finish

Composed of a flat, lacquered metal rail with 2 to 5 tracks and a white metal sliding panel holder, the set includes a custom-made panel : ballast bar and velcro mounting on the panel holder.

- 2 tracks : rail dimensions 38x17
- 3 tracks : rail dimensions 56x17
- 4 tracks : rail dimensions 74x17
- 5 tracks : rail dimensions 92x17
- Metal rail
- PVC socket
- Front or ceiling installation
- Drawing : right, left or central
- Invisible rod


OPTIONS :
- The Japanese panel can be manually drawn using the magnetic handles or curtain wand
- A white rail cover for the rails with 3 to 5 tracks to conceal the rail and give an even more aesthetic finish