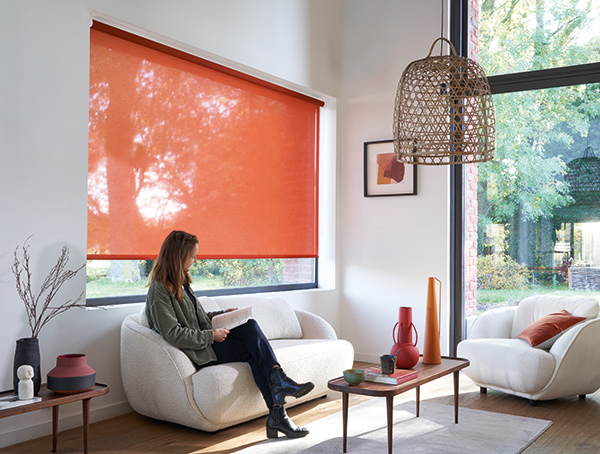 Roller blind
Why choose a roller blind ?
Interior decoration
The roller blind decorates your interior with its large range of finishes, including more than 500 fabrics in varying materials, motifs and colours.

Simple to use
You can easily raise and lower your blind depending on the sun throughout the day.

Compact size
As opposed to curtains, the roller blind is compact because it rolls up discretely.
How to choose your roller blind ?
› A discrete look: choose the Classique roller blind
› A contemporary finish: choose the Design or Smart roller blind
› A minimalist finish without a chain: the Jump roller blind

› Variable light control : the Day & Night roller blind
› Total blackout: the blackout blind with valence & sides

› A tilt and turn window: the guidance system
› Quick & easy installation : the assembly profile
› Easy operation: the silent motor
Roller blind

Classique Finish

The Classique finish made-to-measure roller blind has a metal support to ensure reliability and durability. Totally customisable to suit your wishes and requirements, the classique roller blind can be used everywhere:

- Dimensions up to 3M in width by 3.6M height.
- 3 sizes of mechanism (depending on the size of the blind and the fabric selected): mall (Ø28), Medium (Ø38), large (Ø50)
- Operated by chain ( standard or reverse roll)
- PVC chain and mechanism : white, black, grey or beige
- The charge bar can be visible or hidden inside the fabric hem


OPTIONS :
- Pre-assembly on the installation profile possible (white, black, alu or beige)
- Guidance system by cable or perlon possible
- Winch and handle operation for the large classique roller blind (Ø50)
- Motorisation

A large range of functional and decorative fabrics
A large range of accessories, your roller blind is completely customisable.

Roller blind

Design Finish

Combined a refined design and unique robustness, the Design made-to-measure roller blind has a high-quality mechanism with mountings and chains in brushed steel.

- 2 sizes of mechanism (depending on the size of the blind and fabrci selected): Small (Ø28), Medium (Ø38)
- 6 colour choices for the mechanism : white, anthracite, steel, aluminium, chrome or bronze
- Metal chain :Black, steel, chrome or bronze
- To customise this blind, there is also a wide range of visible or invisible charge bars.
- chain operated ( standard or reverse roll)


OPTIONS :
- Pre-assembly on installation profile possible (white, black, anodised grey, brown)
- Guidance system by cable or perlon possible
- Motorisation

With its refined look, the Design roller blind finition design has a high-quality steel mounting cover).

Roller blind

Jump Finition

The Jump roller blind is very easy to use !
Cordless, the blind raises progressively thanks to its springs and shock-absorbers : the fabric lifts smoothly and gently.

The Jump roller blind is not only practical : it is also decorative thanks to its invisible mechanism (no chains) . Its accessories and fabrics bring a touch of class wherever it is used.

- Mechanism Ø25 (white, black or anodised aluminium)
- 3 colour choices for the mechanism: white, black, anodised aluminium
- Pre-assembled on the installation profile (white, black, anodised aluminium)


Important: Suitable for blinds of maximum a width of 2 metres (1.50M for thick fabrics) and a maximum height of 2 metres.

Automatically spring-raised with a single central cord (no chains).

Adopt this blind for variable light control !
Creat your tailor-made day-night blind.


- Available with or without valence.
- Large range of fabrics.
- Adjustable light filtering.
- Mechanism available in nickel

OPTIONS :
- Motorisation
- Guidance system
- Mechanisms available in white (at no additional cost)

Roller blind
Woven wood

the woven wood roller blind is natural, functional and decorative.


- 3 wood finish available: Madeira, Tabarca & Bali.
- colours available
- Valence 25x25mm.
- Abachi or bamboo slats.
- Metal housing br /> - Operated using a cotton cord
- Front or ceiling installation

OPTIONS :
- Side cloth-tape